Monday, 14 October 2019 -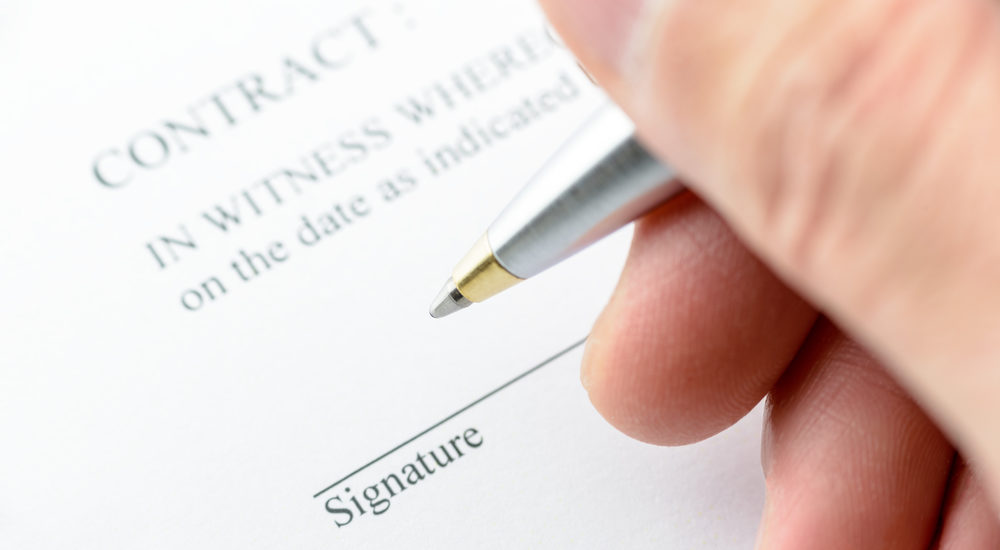 Should You Sign an Assignment of Benefits (AOB)?
When it's time to replace your roof and you've narrowed in on which roofing contractors you want to use, sometimes you're faced with more important decisions.
For instance, the roofing company may bring up the term "Assignment of Benefits" (sometimes called Assignment of Claims). If you're not familiar, let us explain.
What is an Assignment of Benefits (AOB)?
An AOB essentially will transfer your rights for the insurance claim and the benefits of the policy to another party- in this case, a roofer. This gives the roofing contractor the rights to file the claim, make decisions for the repair or replacement of your roof, and collect the insurance payments. All of this is done without your involvement.
Sounds easy, right?
As with Contingency Contracts, there are several things to consider before signing an AOB.
What Should I Know Before Signing an AOB?
Make sure that you read the any contracts thoroughly before signing. This includes asking your roofing contractor to clarify anything you may not understand.
The contract should clearly articulate if there's AOB and/or the roofer should point it out. If there's any ambiguity, the AOB terms are buried, or if it's wrapped up in fancy legal jargon then that should be a red flag. Here are some key things you need to know before signing an AOB:
An AOB is not required in order for a roofer to do work on your home and don't let any roofer tell you otherwise. In fact, many roofing contractors will already be acting on your behalf through the insurance claims process without having you sign an AOB.
When you sign an AOB, it is a legally binding contract and therefore little option to back out should you change your mind.
In some AOB terms, you can no longer communicate with your insurance policy as all rights have been handed over to the roofing company.
Be careful of clever wording that may be used to explain an AOB without directly calling it out.
Generally speaking, there are very few Omaha roofing contractors that still have the AOB terms in their contract. It's helpful to understand what it is and ask them for clarification on why they still use it.
Why You Shouldn't Sign an Assignment of Benefits (AOB)?
The biggest reason to not sign an AOB is the loss of control in the home repair process. Your roofer now has the rights to all your insurance benefits and can work freely (and collect payment) without your input. This might be completely fine if they were a reputable roofer, but you have to ask yourself, why would a reputable roofer even require me to sign an AOB? (Hint: Most won't)
When you lose control over your home repairs, you also lose leverage. Since the insurance money is no longer in your hands, your roofer can "complete" a roofing job and submit for payment. There is very little accountability to the quality of work being done. As a homeowner, you can be dissatisfied with the work and have no way to enforce the roofer to rectify any issues- they've already received their payment.
In a normal situation where the homeowner is writing all the checks and still holds the AOB, they can require a roofing contractor to remediate any issues related to quality, scope of work, etc by simply withholding payment. In the case of AOB, you can't withhold any checks since the roofer is filing and receiving money directly from your insurance company.
Are There Any Reasons to Sign an Assignment of Benefits (AOB)?
In the case of an AOB, the majority of the benefits fall on the roofing contractor. They will get paid no matter what and they can work freely without answering to the homeowners. (Note: While not all roofers who use AOBs will scam you, there is more of a opportunity to do so once this is in place.)
In the case of a homeowner, it would be considered a benefit to sign an AOB if the homeowner truly does not want to lift a finger (except paying their deductible). This "benefit", however, has to be weighed against the loss of control and leverage you lose in regards to the repairs to your home. You're relying 100% on the roofing contractor do what they say they're going to do when they say they're going to do it.
In our opinion, this is not a tradeoff worth taking.
Summary
Very few roofing companies in Omaha have an assignment of benefits as part of their contract. (This fact alone should tell you something.)
Many reputable roofers will already advocate on your behalf with your insurance carrier without requiring you to assign them the benefits of your policy. We highly suggest going this route since the few benefits offered by an AOB are underscored by the amount of control lost to the homeowner.
If you find yourself needing an Omaha Roofer, give Mutual Roofing a call at (402) 889-3381 to schedule your FREE inspection.