Monday, 10 December 2018 -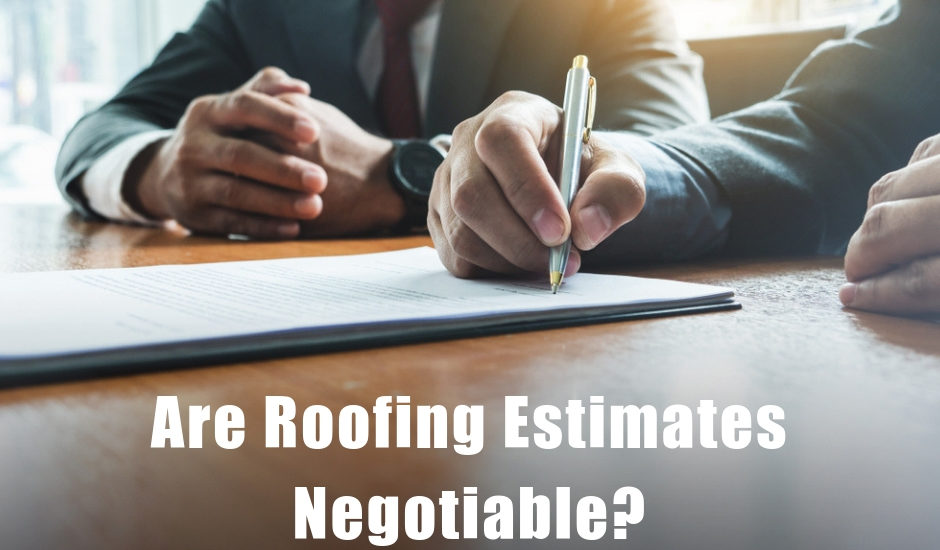 Are Roofing Estimates Negotiable?
Are Roofing Estimates Negotiable?
If you're a homeowner and your roof is in need of repair, you may be wondering if roofing estimates are negotiable.
The answer is that it depends. But usually, yes.
The factors include if it's through insurance, paying out of pocket, and honestly, the seasonal demand for what you need.
Let's explore each possibility below.
Negotiating Roofing Estimate on an Insurance Claim
First off, if this is an insurance-related claim then it's you + roofing company negotiating against an insurance company.
The negotiating is really to get coverage for things that should be covered under your policy. Understanding your policy is important before you attempt to negotiate with your insurance carrier. (Or oftentimes, when your roofing contractor is negotiating on your behalf.)
Your roofer should be very knowledgeable about where to look for damage in order to supplement your claim to its full potential.
As it relates to the deductible amount, negotiating your roofer to cover that amount would be illegal on your end. Likewise, if the roofer has offered to pay your deductible in their sales pitch then consider that a red flag. There's really no wiggle room in this, however, there are loophole methods roofers use to get around this.
Negotiating Roofing Estimate on a Cash Job
In the instance where you need a new roof, but it doesn't qualify for insurance then what do you do?
You pay for it out of pocket! (Sarcastic cheers)
In this case, you're highly incentivized to negotiate your roofing estimate.
So that begs the original question. Are roofing estimates negotiable? If so, how do I negotiate my roofing estimate?
Some factors to consider are who has the "negotiating power". For instance, if it's been a good "roofing year" (think lots of hailstorms and an abundance of work) then the roofer may not be so eager to negotiate.
However, if it's been a slow roofing year then you might have more room to negotiate. Hailstorm = Less Negotiation Power. No Hailstorm = More Negotiation Power.
Likewise, during the Winter months roofing tends to be slower because as it turns out, we can roof your home in the Winter!
Summary
If you were looking to find out "Are Roofing Estimates Negotiable?" then we hope we answered your question.
And if you think you might need a new roof in the Elkhorn or Omaha area, give us a call at (402) 889-3381.